Hallooo! There are so many things I wish to share to everyone like my thoughts on the korean dramas Big, Love Rain, and Fashion King; what I did the past few days when my dad was in Manila; random stuff we bought; and silly photos we had… But this sh*tty internet connection zapped all my enthusiasm away.
But here's one thing that got my hands busy: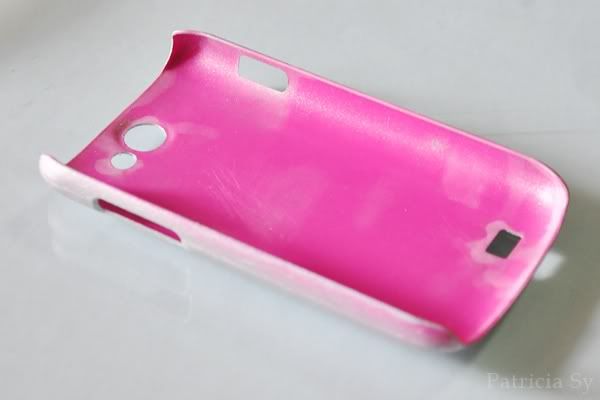 This is my Galaxy W's semi-old back cover. I say semi-old because I think May 2012 is still a relatively recent month. I fell in love at first sight with the hot pink color which is a contrast to what I usually don. It was a nice addition to my stuff which are mostly of pale or low contrast colors. The texture was nice too. 
However it easily got dirty since the texture was similar to that of linen. When I tried to clean it with a moist cloth, the color came off. I kept that dirty case on (because it was an expensive one to begin with and because it is so hard to find cases for a Galaxy W) until I came across an embellished cellphone case online featuring white lace and semi-precious stones on a lovely cerulean shade. But it was too expensive, not to mention it was for an iPhone4. I listed the idea under "Future DIY" somewhere in my brain.
Future came too soon when I saw the scrapbook section at National Bookstore.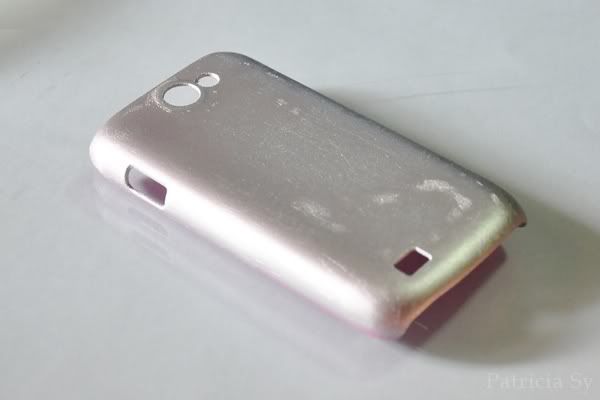 WHAT YOU'LL NEED:
acrylic spray paint in the color of your choice for the base (I used silver, it's what I have in stock from previous projects)
clear acrylic spray paint
old newspapers
sanding paper (optional)
scrapbook embellishments, beads, etc
super glue (I used Bulldog)
PROCEDURES:
(Optional) If your cellphone case has a textured back, smoothen it with a sanding paper so that your paint job will be neat. 
Lay your cellphone case on an old newspaper and spray your chosen base color at least 10 inches away to give it a smooth finish. Make sure you work in a well ventilated area. Let it dry for a few hours or overnight just to be sure.
Tentatively layout your embellishments on your cellphone cover according to the way you want to achieve the final look.
Glue 'em on! Work quick and be careful not to get glue on your fingers.
Spray clear acrylic to keep dirt away and the sides from peeling. It should work just like clear nail polish on your glitter nails! Let it dry overnight.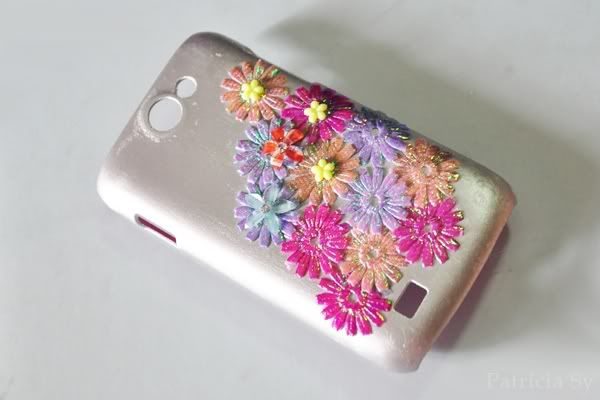 Ta-dah!! I'm pretty satisfied with how this turned out. Although the sanding process wasn't as neat as I thought it would be ~bummer. When I get tired of this I'll try the lace with pearl on pastel base. Lucky for iPhone owners who have plenty of designs at their disposal. Even brands give away free iPhone cases :(
I hope to find a clear acrylic case for my phone where I can just print random patterns and insert in between the case and my phone like you would do a personalized tumbler.
P.S. Do you like my new wider layout? It can now feature photos in 600px! Now that's 100px more than my previous layout. I've been wanting to have this wider column for my viewing pleasure but it was hard to tinker around the code. Finally I was able to tweak it tonight with much back ache in result. My only problem is that  when I upload images in a text post, they're not shown in their maximum 600px width. Images uploaded in a photo post are now 600px wide though. I think it has to do with the Advanced option "Enable High-Res Photos" which is not in my Customize Screen.So far, I make do with hosted images in my text posts so that they'll show a max 600px and proportional height. Anyone knows how to fix that? And do suggest a good quality host for images that allows direct linking. Flickr doesn't allow that anymore, and Photobucket often crashes on me.